Growing Your Bank Connectivity with Nomentia
How easy is it to add new bank connections?
Growing your bank connectivity with Nomentia
Bank connections are absolutely a must to streamline processes or gain more visibility into bank balances globally. With Nomentia, adding new connections can be easy and hassle-free whether it's a host-to-host, SWIFT, or regional connectivity.
Join us for this half an hour webinar and learn how easy it is to add new bank connections. Tapani Oksala will explain you the following:


The challenges dealing with multiple banks
Different ways to connect
Bank connectivity components (format conversions and technical connectivity)
Bank connectivity as a service
Meet the speakers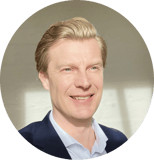 Tapani Oksala
Solution Manager
Tapani has experience in the area of cash management for almost 20 years. Prior joining to Nomentia, Tapani was in charge of the Financial Digital Channel offering in TietoEVRY. Earlier he worked years in a corporate bank in the area of cash management and trade finance.